Seal Your Love Deal With Sapphire Engagement Rings
Wednesday, November 16, 2016 4:16:22 AM America/New_York
There can be no better gesture or proof of your love than gifting your lady a precious gemstone that's embedded on a ring. If you want to make the moment special, there's hardly a better way of doing it than with a sapphire ring. The reason why a sparkling sapphire would suit the occasion is because it is regarded as a timeless beauty that has for ages embodied love. A sapphire is the perfect way of expressing your love because just like the gemstone your affections are skin-deep and ever-lasting.

Sapphire has always been associated with royalty. You can see many celebrities wear the beautiful gemstone with grace and pride. Penelope Cruz, Victoria Beckham, Elizabeth Hurley, Kate Middleton or the Duchess of Cambridge all proudly show-off their engagement or wedding rings that have striking blue sapphire in the middle.

Though it is true that when we think of sapphire, the deep blue color comes to the mind. But sapphire is available in other majestic colors as well though they are not as popular as the Kashmir Sapphire. When you are not simply satisfied with the sapphire and feel you could go the extra mile to make your girl happy, that's when you should choose a differently-colored sapphire.

Pink Sapphire
The second-most precious sapphire, after the Kashmir Sapphire is the Pink Sapphire. The vivacious pink color comes with a hint of suspense as you can hardly guess whether it's simply a darker shade of pink or a color that's just about to transform into ruby.
Beautiful Pink Round Cut Created Sapphire Rhodium Plated Sterling Silver Engagement RingFree Shipping


Purple Sapphire
This gemstone is identified by the intense wine and purple color, which often come with a hint of grey or brown.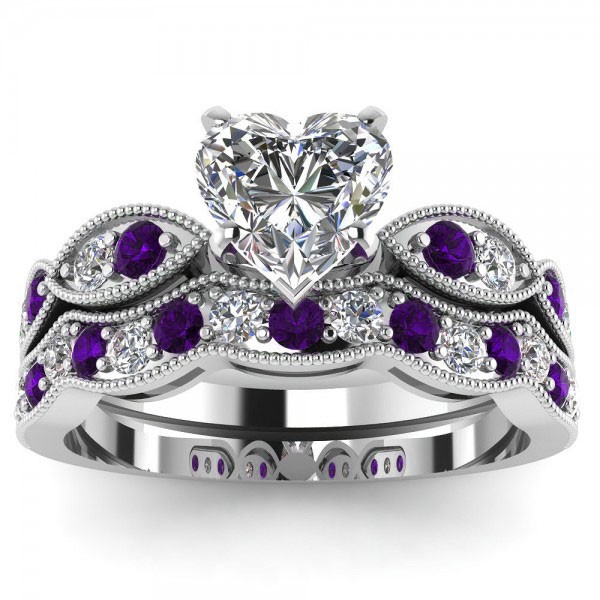 Heart Cut Created White Sapphire with Amethyst Sidestone Rhodium Plated 925 Sterling Silver Women's Wedding Ring Set/Bridal Set


Green Sapphire
The elegant-looking green sapphire is found mainly in Thailand and Australia. But most green sapphires come with a tinge of black and grey shades which reduces its value.
Rose Gold Round Cut Created Emerald 925 Sterling Silver Leaf-shaped Design Bridal Ring Set


White Sapphire
White sapphire is among the cheaper sapphires available in the market.
Unique Twist Style Brilliant Cut Created White Sapphire Rhodium Plating Sterling Silver Engagement Ring


Yellow, Golden and Orange Sapphire
These colors are very rarely found and thus are relatively unknown. Because sapphires with these colors have such light hues, they have to undergo numerous color-enhancement treatments.
Dazzling Leaf Shape Yellow Gold Round Cut Created Sapphire Rhodium Plated Bridal Set

So, what are you waiting for? Splurging on a sapphire and gifting it to the love of your life is one of the best decisions you will make. Remember that there is no better time than now and no perfect moment than the ones you spend with your love. So make it special.
Posted in
News
By
admin admin