Pick Your December Birthstone
Friday, December 9, 2016 2:44:52 AM America/New_York
December birthdays have claim to three gemstones: Tanzanite, Zircon and Turquoise. Each of these gemstones carries a unique blue tone making it a perfect birthstone for the cool December winter. A sparkling gift with extra meaning, birthstone jewelry is the perfect way to celebrate a birthday or the holidays.

Tanzanite also ranges in hues from blue to purple, but it's those with the slightly violet-blue hue and vivid saturation that are most valuable. Coming from only one place on Earth, Tanzania, the stone is rare. The beautiful gem is thought to help unite the heart and mind, providing balance in one's life.

Tanzanite used to mainly be a stone for the U.S. market, but no more. The aisles of this show were a little different than most because there was a major appearance of buyers from Brazil, Mexico, Colombia and especially the Caribbean Islands. Because of these buyers, some of who are newer to the world of tanzanite, it was reported that tanzanite was the hottest selling gemstone at the show!

Zircon, meanwhile, can be found in a wide range of colors such as yellow, orange, brown, green and more, though it seems to be the stunning blues which are most popular right now. In addition to relieving pain and bringing a peaceful sleep, zircon is believed to help harmonize a person's goals and dreams with real life.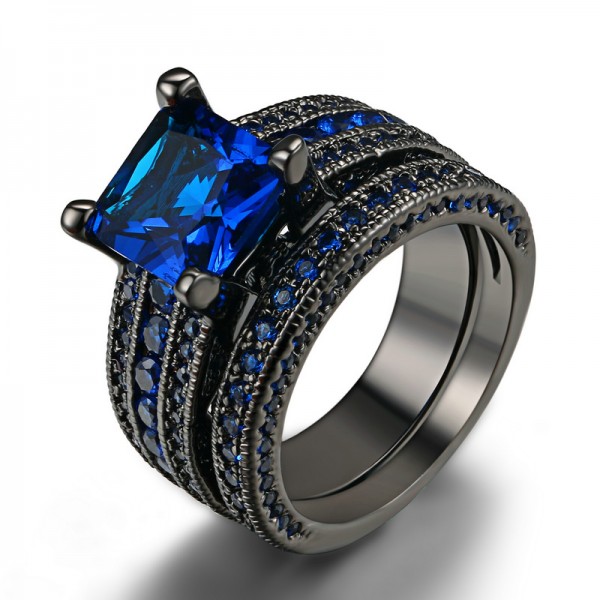 Quality Environmental Copper Plated Black Gold Inlaid Blue CZ Engagement Ring Set
Turquoise can come in a variety of shades, from greenish-blue to robin's egg and on to a sky-blue hue. The stone is, generally, plentiful and available in all shapes and sizes, making it well suited to its birthstone status--not to mention it's believed to bring serenity, peace and inner calm to its wearer.
Retro Pattern Exaggerated Atmosphere 925 Sterling Silver Inlaid Gemstone Ring
The birthstone is a traditional that dates back to biblical tines, and is often the perfect gift for the special someone in your life. If you were lucky enough to be born during December then when it comes to birthstones, the choice is yours. Make your selection from one of the cool blue stones and then begin lifetime of collecting your own pale blue symbols of love.
Posted in
News
By
admin admin