Love Is In The Air: Unique Couple Rings For You And Your Lover
Wednesday, October 21, 2015 9:22:37 PM America/New_York
Couple rings are a popular tradition when it comes to love. With couple rings, you and your lover can have a special accessory that represents the two of you and your commitment to each other. Whether for Valentine's day, in preparation for a wedding or an anniversary, couple rings are great gifts for couples. From whimsical to completely personalized, these couple rings made by indie sellers in our guide come in a variety of styles for you to choose from. Find a couple ring set for you and your sweetheart here!
"My Heart Is Yours" Animated Couple Rings
Show love for your special lady with ASHYL's "My Heart Is Yours" couple ring! This ring set displays a blushing stick boy giving his heart to a happy stick girl on a set of two thick silver rings. With its whimsical charm, this set of couple rings is a unique way to declare love for each other.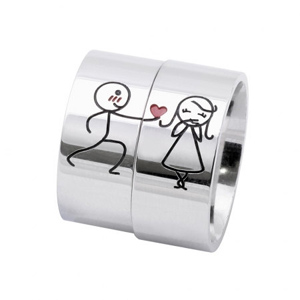 Couple Heart Ring Set
Simple and modern, Cadi Jewelry's couple heart ring set is a stylish way to declare to the world you're a loving couple. Crafted from sterling silver, these rings are a classic pair and are also available in other colors: 14k or 18k white, pink or yellow gold or pink or yellow gold plated sterling silver. When connected, these rings show a small yet meaningful heart, adding a creative way to show love. Whether you use these for marriage or a promise, these rings can be used for any occasion. You can also get these rings engraved with a secret love message for an extra fee.
His & Hers Fingerprint Ring Set
Instead of personalizing rings with words, Rogue River Jewelry lets you customize couple rings with fingerprints! With an instructional video, you and your partner learn to take your fingerprints and send them in to Rogue River Jewelry in order to get your fingerprints on a set of rings. There are several types of rings available, including Tungsten Silver and Tungsten Rose Gold, so you can choose the perfect pair of rings for you and your lover. You can also have a personal engraving on the inside of the rings for an extra $20 fee.
Secret Message Couple Rings
Make your couple rings more meaningful with Erga's secret message rings! Hand-stamped on the inside with your chosen message and simple and sleek on the outside, these rings are stylish and fabulous for promise rings or wedding rings. With a secret message stamped on the inside of these rings, you and your lover will always have something that only you two will know about, making this ring set extra special. You can customize the message with a small quote, other message or anniversary date! Find more modern, whimsical and trendy couple rings and single rings in Erga's shop.
Posted in
News
By
admin admin