Choosing The Right Jewelry For Your Christmas Gift
Wednesday, December 7, 2016 3:15:32 AM America/New_York
The best gifts at Christmas are those that mean something; gifts that spell out a clear message about how much you really care. Of course, it's nice to get the latest film on DVD or some expensive cosmetics; but these types of presents really lack a personal touch.

Some Serious Christmas Sparkle If you've got someone special in your life, and you really want to treat them this Christmas, nothing symbolizes how much you love them quite like Cubic Zirconia. They're the perfect precious stone for Christmas, reflecting the glamour, sparkle and excitement of the festive season. There's something about a Cubic Zirconia that seems to mimic perfectly the delicate beauty of a snowflake or icicle, and it's guaranteed that your loved one will be thrilled with the gift. To view our collection of beautiful Cubic Zirconia for sale click here.

Top CZ Jewelry for Christmas When it comes to options, you've got plenty to choose from.

Rings:Traditionally, a ring is given as a sign of fidelity, life-long devotion and love. A ring like one of these makes a wonderful Christmas gift for your wife, but perhaps not such a great present for the girl you've been dating only a few short months!
Fashion Popular Attractive Woman's Ring With Shining Cubic Zirconia

Earrings:If your partner loves to entertain and socialize, earrings may be the ideal gift. Whether you choose petite cz studs or show-stopping drop earrings, cz are the perfect way to complete an outfit and add a real touch of class. Our collection of earrings.
Vintage Metal all-match colorful Shell Earrings
Bracelets:Bracelets exude expensive appeal, making them the ultimate gift for a cz loving lady. A bracelet adorned with just cz creates an effortlessly beautiful effect; but if you'd like to make more impact, choose a bracelet that combines cz with other gemstones, such as this amazing cz and sapphire bracelet.
Europe Fashion Elegant And Romantic Woman's Bracelet

Necklaces:Necklaces are a really good choice for creative types, as there's plenty of choice when it comes to unique designs. The classic key necklace is a particularly romantic choice, telling her clearly that she's got the key to your heart.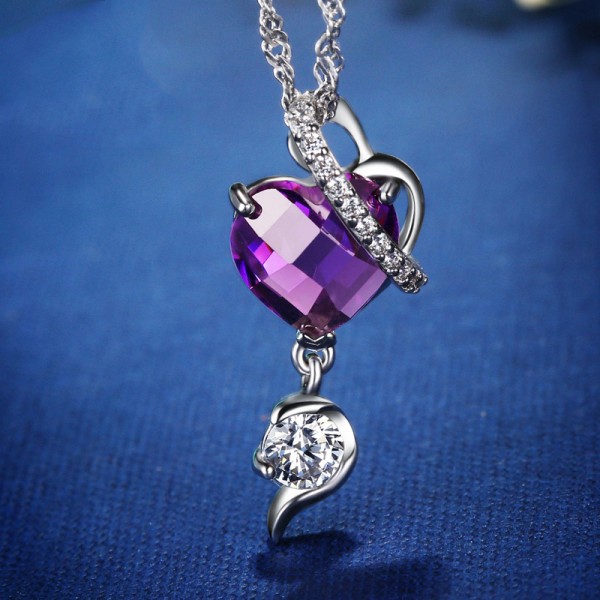 Classic 925 Sterling Silver Inlaid Purple Heart-Shaped CZ Necklace
Festive Romance Of course,cz are a wonderfully romantic gift, and certainly something your partner will treasure a lifetime. Just make sure you pick the right moment to give them to her; when the candlelight is flickering, the wine is poured, and it's just you and her together.

Enjoy!
Looking for inspiration for your Christmas gifts? Simply visit our jewelry store today.


Posted in
News
By
admin admin