5 Helpful Tips For Picking Your Perfect Wedding Jewelry
Monday, December 12, 2016 2:14:52 AM America/New_York
Wedding Jewelry, surprisingly seems to be at least priority when a girl heading towards her most important day. You must have got your wedding dress, but what about your accessories?

Make sure that you'll select perfect wedding jewelry for your wedding day, as it will be the most special day of your life. Mostly ladies gets excited for their wedding dress, but jewelry and accessories, both plays a major role in enhancing elegance of your look.

Note that the first rule for wedding accessories – Do not overexert it! Most of the women think that it's very tempting to load up jewelry items, but the fact is that those overexerted metals should be perfect with your beauty, gown, accessories and other things. Here are few definite tips that will make choosing your wedding jewelry easy:

Match your jewelry with your wedding dress
Initially, you have to start with some research on different types of jewelry and accessories that will be fitted with the style and design of your wedding dress. You can also consider the shoes that you are going to wear on your wedding day. You can explore these things in wedding magazines, wedding blogs or some websites for suggestions and pictures.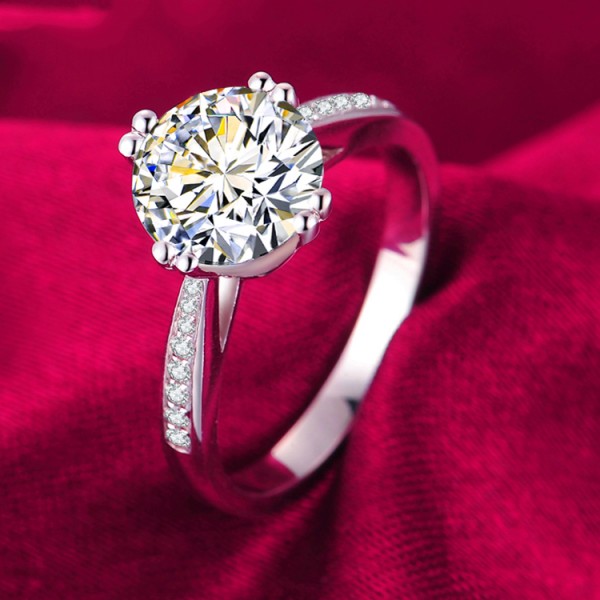 925 Sterling Silver Inlaid 2ct High-End Cubic Zirconia Engagement Ring
Do not forget to pair your neckline with an appropriate adornment
To add magnificence to your wedding dress, a proper adornment should be paired up with bride's neckline. It also highlights the unique feature of bride's beauty and gorgeous dress.
Fashion 925 Sterling Silver Crystal Necklace For Women


Select trinkets according to your bodice detail
If a bride embraces an extra elaborate bodice detail, then she should choose simpler and sophisticated jewelry and accessories. In case, match pearls with beading design of jewelry and diamonds should always match up with crystal designs.

In confusion, always go for conventional jewels
Conventionally designed dangle earrings, with an elegant necklace is a standard jewelry combination, which enhances the beauty of a bride competently. Moreover, a beaded necklace of white pearls with a diamond pendant is a perfect duo with any wedding dress, whether it's strapless or halter.

Prior your own style
While selecting your perfect baubles for your special day, then make sure that your selection should resemble you. If your style does not match up with long chandelier earrings, then you should choose stud earrings. Furthermore, if you feel comfortable in all your jewelry, then your most special day is guaranteed to astonish.
Shining Alloy Charming Crown With Pearl Stud Earrings


Consequently, selecting bridal jewelry one of the finest job, in which you can take suggestions from your friends and family, in the mission to look perfect on your wedding day. Have fun!
Posted in
News
By
admin admin